How do you get ready for a speech? Do you get right to it, or does that library errand or long-neglected household chore suddenly seem like it just won't wait? You're not alone. I just read this in The Onion, a satirical publication that makes fun of all sorts of things. It's a spot-on spoof of how inventive some folks get when a deadline is looming. Do you see yourself represented here at all?
---
Man Stays Up All Night Procrastinating
FLAGSTAFF, AZ—Ba;nk manager Ron Bogen, 29, worked into the wee hours of the morning not writing his speech for the semi-annual Compass Bank Best Practices Conference Tuesday.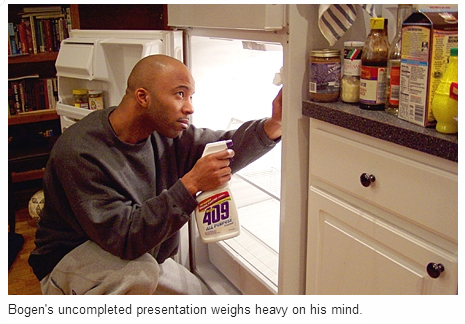 "If I'm a bit slow today, it's because I was up all night working on that presentation," Bogen told his coworkers over lunch Tuesday. "It was a lot slower going than I thought it would be, and a bunch of other stuff came up while I was working on it. All in all, it took me, like, 10 hours."
According to live-in girlfriend Sophie Collins, the evening started well for Bogen.
"Ron talked all weekend about needing to write his speech, but he finally sat down at about 8 Monday night," Collins said. "He had everything he needed laid out on the table: all of the papers and brochures from work, his pens and highlighters, and a tape recorder. In less than half an hour, he was cleaning the bathroom."
Bogen explained: "I was in the bathroom thinking through the opening of the speech when I saw how disgusting the sink was. I couldn't concentrate with a sink that filthy under me. It was no big deal, though—a; little Comet, a thorough scrubbing, and a rinse. Took 20 minutes, tops."
After cleaning the sink, picking his dirty clothes up off the floor, and hanging new towels on the rack, Bogen said he realized that he hadn't spoken to his parents in at least two weeks. After he called his parents, he then called his brother, and then his sister.
"I wanted to get down to work, but I couldn't just call everyone but Tammy," Bogen said.
At 10 p.m., Bogen returned to his desk to begin his speech. When he booted up his Dell Inspiron, a dialog box appeared, urging him to install a new Windows XP security patch.
"I'd been ignoring that warning for months," Bogen said. "I said to myself, 'Let's just get it done.'"
After installing and rebooting, Bogen decided to update his Flash Player and Internet Explorer plug-ins, as well.
At 10:45 p.m., Bogen began to organize his speech by writing it out in longhand on index cards. While looking for index cards, he noticed a pile of bills.
"I'd been meaning to switch over to paperless billing for my cable and phone and everything for months," Bogen said. "It felt so good to finally have that all set up."
Bogen was ready to tackle his presentation once again at 11:15 p.m.
"I was getting back down to work when I remembered that there was a great speech in that movie Sneakers," Bogen said. "I knew it would be really helpful for my own speech, so I got out the DVD. I ended up watching the whole movie before I realized that the speech was actually in Dave. But I didn't watch that movie, because it was 1 a.m., and I really needed to get cracking. That is, right after I organized my DVD shelf, which had gotten really out of control."
Between the hours of 1 and 2:30 a.m., Bogen searched the Internet for information about his old high-school friends, read the latest Time magazine from cover to cover, bought three books on Amazon, and downloaded a single from Jay-Z's Black Album.
Bogen also showered and shaved "to get into the perfect condition to do some writing."
"I don't know why a shower helps, but it does," Bogen said. "As soon as I finished eating the fajitas I made, my mind was on nothing but the speech."
Collins, who urged Bogen to finish his speech so he could go to bed with her, was disappointed to wake up alone.
"I found Ron with his head down on his keyboard, a blank Word document on his screen, and note cards with jokes written on them strewn everywhere," Collins said. "Clearly, he'd gone to some Internet site devoted to funny ice-breakers and spent hours writing down his favorites."
As the couple got ready for work, Bogen furiously scribbled an outline for his presentation on a notepad as he brushed his teeth and dressed.
Bogen said he promised himself that he wouldn't tell anyone how long he worked on the speech, but he broke his promise as soon as he slid in beside coworker and carpool member Will Serber.
"Ron said he looked like shit because he was up all night slaving away on work for the conference," Serber said. "But, from what I could tell, he wrote as many pages of his speech during the 20-minute ride to work as he'd written the whole night before."
Bogen, who has been branch manager of Flagstaff's Central Avenue Compass Bank for nearly 11 months, delivered his eight-minute speech Tuesday at 10:30 a.m. without major incident.
"The speech turned out pretty good," Bogen said. "Just goes to show that it pays to put in the effort and pull an all-nighter."
Although the speech was well received, one audience member noted that Bogen looked "bedraggled."
"They must be working Ron really hard over at Central," said Seth Friedlander, who worked with Bogen at his old branch. "He looked like he'd been burning the midnight oil. That's why I'm not management material. I need a full night's sleep, or I can't get anything done the next day."

Did you enjoy this article?
Social Share